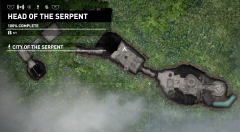 Head of the Serpent
There is a single optional base camp in the region "Head of the Serpent", which will only appear as a fast travel option and not during gameplay, when you visit the region during the level
The Hidden City
.
There is one single collectible, a mural to be found in the "Head of the Serpent".
Awaits, located inside the cavern where the "Trial of the Serpent" begins.
© www.tombraidergirl.com Personal use only, no reproduction. Last changes: 01 Oct 2018, 00:43
Isn't she beautiful? I'm falling in love all over again.