1. Through the Web
Take one step forward.
Relic:
Look in the upper right corner, by taking a step forward the first vase of the chapter has appeared from behind the black roof of the cave. Tap it for the first
Sapphire
(1/32).
Step forward, into the dark passage and out on the other side.
Relic:
Immediately after stepping out on the other side, you can collect the next vase. It is to Lara's left, behind the yellow mushrooms. Inside is the next
Sapphire
(2/32).
Take a step forward. You can see a
Large Spider
. Stepping forward again will get you killed, so take one step back. Then take two steps foward to get past the spider. Climb down. Take a step forward and kill the
Large Spider
in the corner.
Relic:
Look behind Lara, in the dark alcove right of the path she came down is the next vase. Inside is the first
fragment of "The Frozen Spider"
(1/12).
Take a step to Lara's right and then head left towards the edge. Climb down to the bottom. Take two steps towards the
Spear
to pick it up automatically.
(Do not waste it against the spider, it is for the snake.)
Take two steps back so you are lined up with the
snake
and tap it to throw the spear at it and kill it. Take a step back to the T-junction.
(Unless you have taken any steps not detailed in this guide, the large spider should be heading towards the upper right corner with one step to go. [Screenshot])
X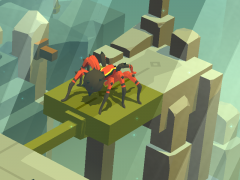 Large Spider
Large Spider
The large spider will take a step forward for every step Lara takes. When it reaches the end of a path, it turns around and moves into the other direction. Lara can kill it when she approaches from the side. Sometimes you'll need the spider to trigger a pressure plate, so don't always kill them.
X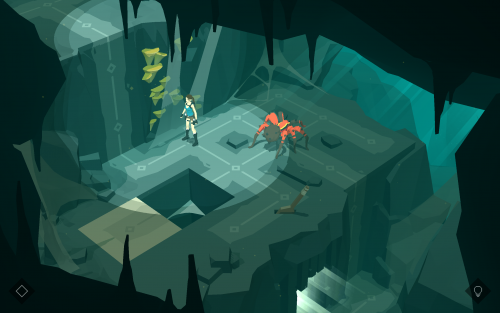 Click image to view all sizes
2.
3.
4.
5.
6.
7.
© www.tombraidergirl.com Personal use only, no reproduction. Last changes: 29 Aug 2018, 21:57
Ah! That was unexpected, but I'll take it...